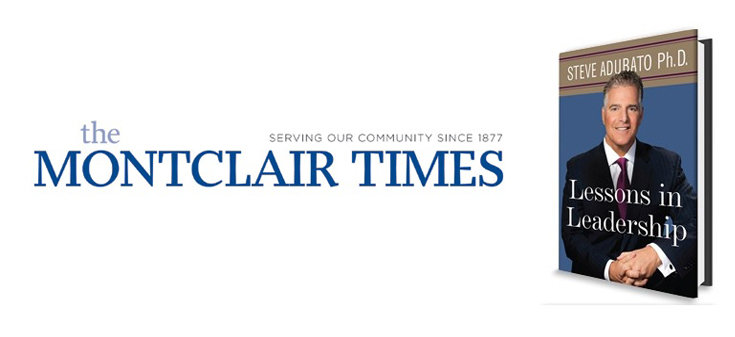 Montclair Times Bookshelf: "Lessons in Leadership," Steve Adubato
By Mark S. Porter for The Montclair Times

Some people are "natural" leaders, adept at taking initiatives or taking advantage. Other folks are followers, not usually the hand-raisers or the standard-bearers. And yet, from the ranks of these people known as the rest of us, individuals can become leaders when a crisis occurs or an opportunity bursts forth. Leadership is not just a set of inherent traits. There are leadership attributes and attitudes that can be realized in people willing to take them on.
Steve Adubato isn't stingy in handing out his "Top 10 Lessons in Leadership" bookmarks that sum up some of these command skills. Aside from the self-promotion for his new book, "Lessons in Leadership," Adubato's bookmark succinctly outlines 10 skills and behaviors inherent for people who lead. And, as the Montclair resident readily acknowledges, these bookmarks whet many folks' intellectual appetites to read his new book, his fifth.
"We're a work in progress, if we choose to be," noted Adubato. "When I hear a client saying 'This is as good as it can get,' he or she has stopped growing."
"The world around us is literally a leadership laboratory filled with powerful case studies of mergers, takeovers, downsizings, of failed efforts and industry successes," Adubato told The Montclair Times. "I've tried to take these situations, combined with my teachings, my executive coaching in the field of leadership, and my work as a commentator, and offer practical, valuable lessons for the rest of us. That's the premise of this book."
Defining "a Renaissance man," Adubato has been one of the youngest people elected to the New Jersey Legislature, been a visiting professor at Montclair State and several other universities, anchored weekly shows on PBS affiliates, been a news anchor on NYC television stations, a political and media analyst on national channels, and operates a Montclair-based professional coaching company, Stand & Deliver.
Of his bookmark, Adubato said, "The first lesson is probably my favorite: 'Attitude is everything.' Is it not our attitude that we choose to lead ourselves and others? ... It's our attitude that affects everyone, or infects everyone and everything around us."
In his new book, Adubato goes through world history to cite exemplars and their leadership attributes. John F. Kennedy, Martin Luther King Jr., Jesus Christ, and other worldwide figures are cited, as are people such as the Yankees' Lou Gehrig, Rutgers University football player Eric LeGrand, corporate and military leaders, and his own father, Steve Adubato, who for decades had been a hard-driving political and community leader in Newark's North Ward. "Lessons..." also cites Dewey, a character in the film "School of Rock." A chapter focuses on Don Vito Corleone from "The Godfather," cited by Adubato as "a useful metaphor for leadership and life."
"Leadership is about when your team is down by a run and your friend strikes out. Your job is to step up as a leader to let him know he did his best," Adubato said. "Of course, you want to win. But I'm also a fan of how you win and, I daresay, how you lose."